FLEXIBILITY
SUN-X owns and operates industrial properties located in strategic industrial parks throughout Winnipeg. We know that firms have varying needs and requirements and we offer a wide variety of properties to accommodate a diverse clientele.
In choosing our locations, constructing our buildings, or renovating recent acquisitions, we try to meet 90 to 95% of the market demands for each and every building. We offer variable and flexible unit sizes, with built-in features taking into consideration future market concerns.
The structural lintels are built in to the buildings, so if you find you need more rear loading at some future date, the accommodations have been prepared! We offer flexible power (120/208V 3 phase up to 600V), and the division of utilities is never a concern.
OUR STRATEGY IS TO ANTICIPATE THE RELOCATION OR EXPANSION NEEDS OF OUR TENANTS, AND TO BE THERE.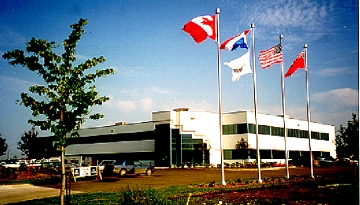 Shown above is one of the newest buildings built by SUN-X PROPERTIES LTD.
and leased back to New Flyer Industries Limited.
Should you require larger premises (at least 150 % the size) at any time during your lease, our policy is to discontinue your lease, following which a rent-free period is offered to allow for a smooth move to the new premises without paying into the new lease.
No matter what type of business you are in, or what the future has in store, SUN-X can accommodate all your property needs.

| | |
| --- | --- |
| | To print this page, please click on the printer to open a separate, resizable window which is printer-friendly. |